This index last updated: 28/11/2018
Custom Search
Biomedical Chromatography
2018
GuoP.ZhangJ.J.ChenX.H.ZhaoL.S.
Preparation of dummy template-imprinted polymers for the rapid extraction of nonsteroidal anti-inflammatory drugs residues in aquatic environmental samples
Biomedical Chromatography
32
(6), ArticleNoe4193.
DOI:
10.1002/bmc.4193
2017
Habibi-KhorasaniM.MohammadpourA.H.MohajeriS.A.
Development of solid-phase microextraction coupled with liquid chromatography for analysis of tramadol in brain tissue using its molecularly imprinted polymer
Biomedical Chromatography
31
(2), ArticleNoe3787.
DOI:
10.1002/bmc.3787
2016
LiQ.F.ZhanY.M.ZhongY.G.ZhangB.GeC.Q.
Macromolecular Crowding Agents-Assisted Imprinted Polymers For Analysis Of Glycocholic Acid In Human Plasma And Urine
Biomedical Chromatography
30
(11), 1706-1713.
DOI:
10.1002/bmc.3737
2016
LiH.HeH.L.HuangJ.J.WangC.Z.GuX.L.GaoY.K.ZhangH.J.DuS.H.ChenL.N.YuanC.S.
A novel molecularly imprinted method with computational simulation for the affinity isolation and knockout of baicalein from Scutellaria baicalensis
Biomedical Chromatography
30
(2), 117-125.
DOI:
10.1002/bmc.3525
2016
AtlabachewM.TortoN.ChandravanshiB.S.Redi-AbshiroM.ChigomeS.MothibediK.CombrinckS.
A (-)-norephedrine-based molecularly imprinted polymer for the solid-phase extraction of psychoactive phenylpropylamino alkaloids from Khat (Catha edulis Vahl. Endl.) chewing leaves
Biomedical Chromatography
30
(7), 1007-1015.
DOI:
10.1002/bmc.3643
2015
ZhangJ.NiY.L.WangL.L.MaJ.Q.ZhangZ.Q.
Selective solid-phase extraction of artificial chemicals from milk samples using multiple-template surface molecularly imprinted polymers
Biomedical Chromatography
29
(8), 1267-1273.
DOI:
10.1002/bmc.3416
2015
PeyroviM.HadjmohammadiM.
Synthesis of molecularly imprinted polypyrrole as an adsorbent for solid-phase extraction of warfarin from human plasma and urine
Biomedical Chromatography
29
(11), 1623-1628.
DOI:
10.1002/bmc.3469
2015
JiX.LiD.LiH.
Preparation and application of a novel molecularly imprinted solid-phase microextraction monolith for selective enrichment of cholecystokinin neuropeptides in human cerebrospinal fluid
Biomedical Chromatography
29
(8), 1280-1289.
DOI:
10.1002/bmc.3418
2014
ZhangJ.TianY.L.WangL.L.HanY.T.
Preparation of a novel lysozyme molecularly imprinted polymer using uniformly sized functionalized poly(glycidyl methacrylate) microspheres as the matrix and its application to lysozyme purification
Biomedical Chromatography
28
(4), 534-540.
DOI:
10.1002/bmc.3065
2014
XiaB.Y.XiaY.WongJ.NicodemusK.J.XuM.LeeJ.GuillotT.LiJ.
Quantitative analysis of five tobacco-specific N-nitrosamines in urine by liquid chromatography-atmospheric pressure ionization tandem mass spectrometry
Biomedical Chromatography
28
(3), 375-384.
DOI:
10.1002/bmc.3031
2014
WangX.J.DongS.H.BaiQ.
Preparation of lysozyme molecularly imprinted polymers and purification of lysozyme from egg white
Biomedical Chromatography
28
(6), 907-912.
DOI:
10.1002/bmc.3207
2014
SzultkaM.KrzeminskiR.WalczakJ.JackowskiM.BuszewskiB.
Pharmacokinetic study of amoxicillin in human plasma by solid-phase microextraction followed by high-performance liquid chromatography-triple quadrupole mass spectrometry
Biomedical Chromatography
28
(2), 255-264.
DOI:
10.1002/bmc.3014
2013
DaryanavardS.M.Jeppsson-DadounA.AnderssonL.I.HashemiM.ColmsjöA.Abdel-RehimM.
Molecularly imprinted polymer in microextraction by packed sorbent for the simultaneous determination of local anesthetics: lidocaineropivacainemepivacaine and bupivacaine in plasma and urine samples
Biomedical Chromatography
27
(11), 1481-1488.
DOI:
10.1002/bmc.2946
2013
BereliN.ErtürkG.TümerM.A.SayR.DenizliA.
Oriented immobilized anti-hIgG via Fc fragment-imprinted PHEMA cryogel for IgG purification
Biomedical Chromatography
27
(5), 599-607.
DOI:
10.1002/bmc.2833
2012
FarhadiK.HatamiM.MatinA.A.
Microextraction techniques in therapeutic drug monitoring
Biomedical Chromatography
26
(8), 972-989.
DOI:
10.1002/bmc.2774
2011
KoleP.L.VenkateshG.KotechaJ.SheshalaR.
Recent advances in sample preparation techniques for effective bioanalytical methods
Biomedical Chromatography
25
(1-2), 199-217.
DOI:
10.1002/bmc.1560
2009
PrasadB.B.TiwariK.SinghM.SharmaP.S.PatelA.K.SrivastavaS.
Ultratrace analysis of uracil and 5-fluorouracil by molecularly imprinted polymer brushes grafted to silylated solid-phase microextraction fiber in combination with complementary molecularly imprinted polymer-based sensor
Biomedical Chromatography
23
(5), 499-509.
DOI:
10.1002/bmc.1145
2008
YanH.RowK.H.
Novel molecularly imprinted monolithic column for selective on-line extraction of ciprofloxacin from human urine
Biomedical Chromatography
22
(5), 487-493.
DOI:
10.1002/bmc.957
2007
SharmaP.S.LakshmiD.PrasadB.B.
Molecularly imprinted solid-phase extraction combined with molecularly imprinted polymer-sensor: a diagnostic tool applicable to creatine deficiency syndrome
Biomedical Chromatography
21
(9), 976-986.
DOI:
10.1002/bmc.842
2005
ChenZ.Y.ZhaoR.ShangguanD.H.LiuG.Q.
Preparation and evaluation of uniform-sized molecularly imprinted polymer beads used for the separation of sulfamethazine
Biomedical Chromatography
19
(7), 533-538.
DOI:
10.1002/bmc.476
2004
CserhatiT.ForgacsE.DeylZ.MiksikI.EckhardtA.
Chromatographic determination of herbicide residues in various matrices
Biomedical Chromatography
18
(6), 350-359.
DOI:
10.1002/bmc.378
2001
LinJ.M.HoboT.
Inspection of the reversal of enantiomer migration order in ligand exchange micellar electrokinetic capillary chromatography
Biomedical Chromatography
15
(3), 207-211.
DOI:
10.1002/bmc.63
1999
MengZ.H.ZhouL.M.WangJ.F.WangQ.H.ZhuD.Q.
Molecule imprinting chiral stationary phase
Biomedical Chromatography
13
(6), 389-393.
DOI:
10.1002/(SICI)1099-0801(199910)13:6<389::AID-BMC897>3.0.CO;2-Q
1997
LinJ.M.NakagamaT.UchiyamaK.HoboT.
Temperature effect on chiral recognition of some amino acids with molecularly imprinted polymer filled capillary electrochromatography
Biomedical Chromatography
11
(5), 298-302.
DOI:
10.1002/(SICI)1099-0801(199709)11:5<298::AID-BMC702>3.0.CO;2-Q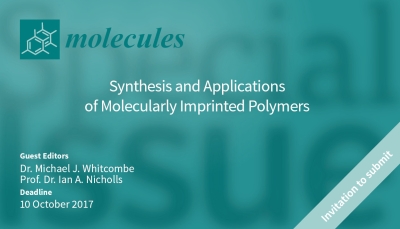 Join the Society for Molecular Imprinting
New items RSS feed

View latest updates
Sign-up for e-mail updates:
Choose between receiving an occasional newsletter or more frequent e-mail alerts.
Click
here
to go to the sign-up page.
Is your name
elemental
or
peptidic
? Enter your name and find out by clicking either of the buttons below!