This index last updated: 13/12/2021
Custom Search
Luminescence
2020
HuangJ.J.LiuJ.LiuJ.X.WangJ.P.
A microtitre chemiluminescence sensor for detection of pyrethroids based on dual-dummy-template molecularly imprinted polymer and computational simulation
Luminescence
35
(1), 120-128.
DOI:
10.1002/bio.3711
2019
XiaW.Q.ZhangH.C.WangG.N.LiuJ.WangJ.P.
A molecularly imprinted polymer based chemiluminescence array sensor for one-step determination of phenothiazines and benzodiazepines in pig urine
Luminescence
34
(1), 98-105.
DOI:
10.1002/bio.3584
2019
NsibandeS.A.ForbesP.B.C.
Development of a quantum dot molecularly imprinted polymer sensor for fluorescence detection of atrazine
Luminescence
34
(5), 480-488.
DOI:
10.1002/bio.3620
2019
LiuY.ChenP.P.ZhengS.XingY.C.HuangC.B.
Novel fluorescent sensor using molecularly imprinted silica microsphere-coated CdSe@CdS quantum dots and its application in the detection of 246-trichlorophenol from environmental water samples
Luminescence
34
(7), 680-688.
DOI:
10.1002/bio.3653
2017
YuanX.Y.TanY.J.WeiX.P.LiJ.P.
Chiral determination of cinchonine using an electrochemiluminescent sensor with molecularly imprinted membrane on the surfaces of magnetic particles
Luminescence
32
(7), 1116-1122.
DOI:
10.1002/bio.3297
2017
GorbaniY.YilmazH.BasanH.
Spectrofluorimetric determination of atenolol from human urine using high-affinity molecularly imprinted solid-phase extraction sorbent
Luminescence
32
(8), 1391-1397.
DOI:
10.1002/bio.3335
2016
AmjadiM.JaliliR.ManzooriJ.L.
A sensitive fluorescent nanosensor for chloramphenicol based on molecularly imprinted polymer-capped CdTe quantum dots
Luminescence
31
(3), 633-639.
DOI:
10.1002/bio.3003
2013
Al LawatiH.A.J.
Flow-based analysis using microfluidics-chemiluminescence systems
Luminescence
28
(5), 618-627.
DOI:
10.1002/bio.2418
2012
LiuZ.B.JiaF.Y.WangW.W.WangC.X.LiuY.M.
Determination of phenformin hydrochloride using molecular imprinting technology coupled with flow-injection chemiluminescence
Luminescence
27
(4), 297-301.
DOI:
10.1002/bio.1350
2011
XieC.G.GaoS.ZhouH.K.LiH.F.
Chemiluminescence sensor for sulfonylurea herbicide using molecular imprinted microspheres as recognition element
Luminescence
26
(4), 271-279.
DOI:
10.1002/bio.1224
2011
NieF.HaoL.GaoM.WuY.C.LiX.S.YuS.
Cu2+-imprinted cross-linked chitosan resin as micro-column packing materials for online chemiluminescence determination of trace copper
Luminescence
26
(4), 289-295.
DOI:
10.1002/bio.1226
2009
YuJ.H.GeL.DaiP.ZhangC.C.GeS.G.HuangJ.D.
Highly selective determination of phenolphthalein by flow injection chemiluminescence method based on a molecular imprinting polymer
Luminescence
24
(6), 444-447.
DOI:
10.1002/bio.1135
2008
ZhangZ.WangL.
Molecular imprinted polymer-based chemiluminescence imaging sensor
Luminescence
23
(2), 109-110.
DOI:
10.1002/bio.1036
2006
ChenY.C.WangZ.M.YanM.D.PrahlS.A.
Fluorescence anisotropy studies of molecularly imprinted polymers
Luminescence
21
(1), 7-14.
DOI:
10.1002/bio.874
2005
ZhangZ.J.HeD.Y.LiuW.LvY.
Chemiluminescence micro-flow-injection analysis on a chip
Luminescence
20
(4-5), 377-381.
DOI:
10.1002/bio.846
2005
NieF.LuJ.R.HeY.H.DuJ.X.
Use of molecule imprinting-chemiluminescence method for the determination of tamoxifen in breast cancer sufferers' urine
Luminescence
20
(4-5), 315-320.
DOI:
10.1002/bio.837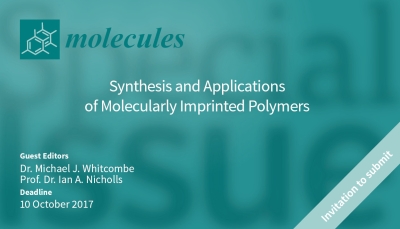 Join the Society for Molecular Imprinting
New items RSS feed

View latest updates
Sign-up for e-mail updates:
Choose between receiving an occasional newsletter or more frequent e-mail alerts.
Click
here
to go to the sign-up page.
Is your name
elemental
or
peptidic
? Enter your name and find out by clicking either of the buttons below!